Mural Mural on the Walls provides learning opportunities in a community setting to create ceramic tile murals for public display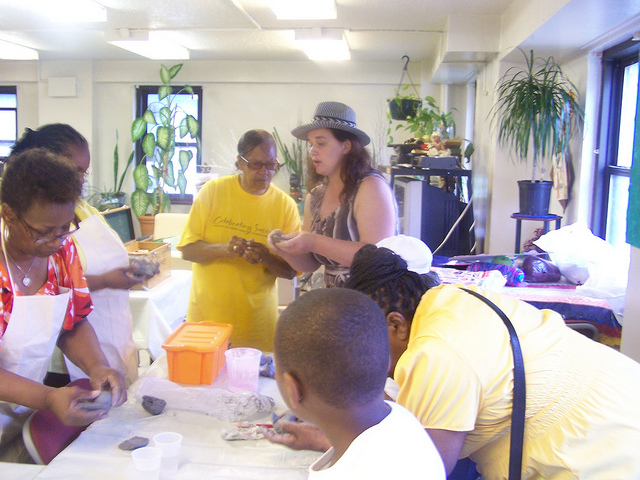 Mural Mural on the Walls – What We Do:
Mural Mural on the Walls creates educational programs within a community environment, utilizing mural installations as a teaching program. Structured within educational themed-mural projects, group interactions are interesting and exciting.
Promoting the arts in underserved communities, Mural Mural on the Walls contracts with partnering institutions to publicly display completed murals, creating opportunities to build lasting relationships between institutions and local communities.

How We Work With Sponsoring Institutions
Mural Mural on the Walls, represented by Jennifer Wade and Patrick Dennis, form agreements with community organizations, institutions, corporations and sponsoring agencies.
These partners fund educational programs and display completed ceramic murals. They also help fund the display and maintenance of the ceramic murals.
Jennifer Wade and Patrick Dennis establish relationships by meeting with staff representing various departments of an institution who are interested in housing a ceramic mural display.

Sponsoring Institutions
Mural Mural on the Walls seeks institutional sponsors who are interested in building lasting relationships with their surrounding community. Artist-friendly institutions who appreciate and are open to the value of unique creative expression are encouraged to contact Mural Mural on the Walls.
Organizations or corporate sponsors who want to promote educational opportunities for children and adults should also contact Mural Mural on the Walls to explore ways to support this program.
Institutions interested in community outreach can offer funding for themed projects to be displayed at their location.
Funders will be recognized in a plaque listing collaborators, participating organizations and funders.

The Completed Ceramic Murals and Ceramic Mural Display
The ceramic murals are composed of many individual ceramic tiles, carefully combined and composed to find a harmonious layout that best serves each individual component and a cohesive whole.
Mural Mural on the Walls has created a framed mounting that can be transported, mounted, removed and repaired.
Mural Mural on the Walls meets with building staff and other departmental entities to sound out their interests. Multiple departments may each have their own concerns.
Safety concerns are addressed, and Mural Mural on the Walls works with the institutional architect to insure that the completed murals are structurally sound and will not damage interior or exterior walls.
The display space should be a venue that is accessible and directly used by the local community, available for all demographics to visit and see the site. Care is taken to pick an area where pieces are protected from damage.
All ceramic tiles are safe-to-touch, durable and water resistant. Ceramic tiles are color-fast and will not fade due to sunlight. We use lead-free glazes and products. No dangerous chemistry is involved either in the process of making the pieces or installing the pieces.